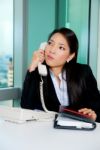 A lot of things can happen when a potential customer dials your number.  Some are not good.
As a owner or manager I suggest you call all the the numbers listed in phone directories, web sites and any printed materials. Call during normal business hours and outside normal hours.  This may seem to be a waste of time but you might be surprised with what happens.
The number might not be working or if you have a Call Forward Busy Line feature it may 'roll over' to a non working number or a fax machine.
Does the person answering have a friendly professional greeting that includes their name?
Can you hear them clearly?
If you use an auto attendant for initial answer, do the voice prompts make sense to your customer? Exercise all of the options and make sure that they direct you to the proper group.  And by all means do not have the customer enter their account number via keypad and then ASK them for the same information when a live person is on the line.
Remember that this "First Impression" of your business might be the difference between a long time relationship and your competitor gaining a new customer.