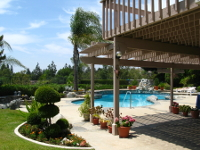 Managing your properties and your employees that take care of your properties can often be a tall order. How can you be sure that your employees are really where they say they are from the times that they say they are? Getting a place back into proper living conditions could mean 15 minutes of work, or hours depending on the previous leasers. With Display Tracks, you will always know why your employees took so long.
With Geo-tagged Photos your workers can take before and after photos of a property which you can view on the web application just moments after the photos are taken. This will give you a better idea of how your workers are spending their time on the clock.
Making use of our Send Location feature is a great way to get your workers to their desired destination in less time. Plus, this feature is as easy as right clicking on your destination, and clicking the 'Send Location' button! A packet of information is then sent to the selected device, at which time the device opens the location using the GPS turn-by-turn navigator.
To get a better idea of how your employees have spent their time throughout the day, you can pull Business Reports to see where they were at different times of the day. You can create a time sheet of billable hours for any contract workers using our report system. At the end of the week, you are able to run a weekly report to make sure your employees have put in the 40 hours that they say they have.