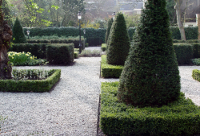 No matter the size of your landscaping business, big or small, Display Tracks can immediately have an impact. Our real-time tracking services can keep your managers aware of where each and every crew member is. This alone solves the problem of having too many people showing up at one site… redundancy costs money, and we can eliminate that!
Getting lost also costs money! In some neighborhoods, it is inevitable, that is, without Display Tracks. Our web application allows a dispatcher to first do a search on the customer's address, and then send turn-by-turn voice navigation directions to your driver's phone. Voila! No more problem of getting lost in gigantic neighborhoods with winding roads.
Several clients are repeat customers, and require your services many times throughout the year. Commonly sought locations can be identified on our system with the use of Landmarks. Landmarks can be given a colored map marker, name and description to describe a location. These marked locations will help dispatchers by giving them an estimated time of arrival for any vehicle headed there. Reports also let you know how much time your workers spend at a given landmarked location.
More