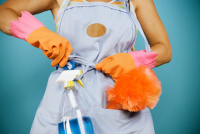 Running a house keeping business requires a bit of organization. You want to provide the best service, and be on time for your appointments. Display Tracks is here to help! Our application allows you to set Landmarks at the location of your repeat customers, which also shows you an estimated time of arrival and how far your house keepers are from that landmark.
It may also be helpful to take before and after photos for your company portfolio, or to show your customer the improvement. With High-Definition quality pictures, your device can take pictures that focus down to level of dust!
The Display Tracks Reporting System could also prove useful for time sheets for your hired house keepers. A manager could see when a house keeper arrived at the house that was to be cleaned, and when that person was finished cleaning.
More